home
The practice of art-making is a place I directly let the universal life force of healing and beauty pour through me, the vessel.
The imagery and symbols tumble through my consciousness, through my heart and hands, to the paper or canvas or space or fabric.
I feel there is an endless source of inspiration that has the unique ability to heal, guide, humble, inspire, challenge and resolve. It's my experience that by letting the vibration of this spirit realm come through me, to invoke it with my body and my mind and heart, I can weave into this world more of the healing energy that inspires kindness, gentle living and consciousness in all its forms.
I have been making art my whole entire life. Some of the mediums I work with most currently are: paint, paper/canvas, ink, installation, altars, beads, textile, screen printing, sewing to name a few.
Below are items from my Etsy shop and my Society6 Shop. Please click the image below to get more information or to purchase.
Original Paintings:
$66.00 USD

$66.00 USD

$66.00 USD

$77.00 USD

$66.00 USD

$66.00 USD

$66.00 USD

$66.00 USD

$66.00 USD

$77.00 USD

$66.00 USD

$66.00 USD

$77.00 USD

$77.00 USD

$111.00 USD

$77.00 USD

$77.00 USD

$66.00 USD

$77.00 USD

$77.00 USD
Earrings:

$82.00 USD

$65.00 USD

$55.00 USD
Necklaces: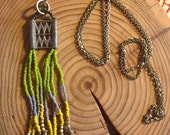 $65.00 USD
Lifestyle: